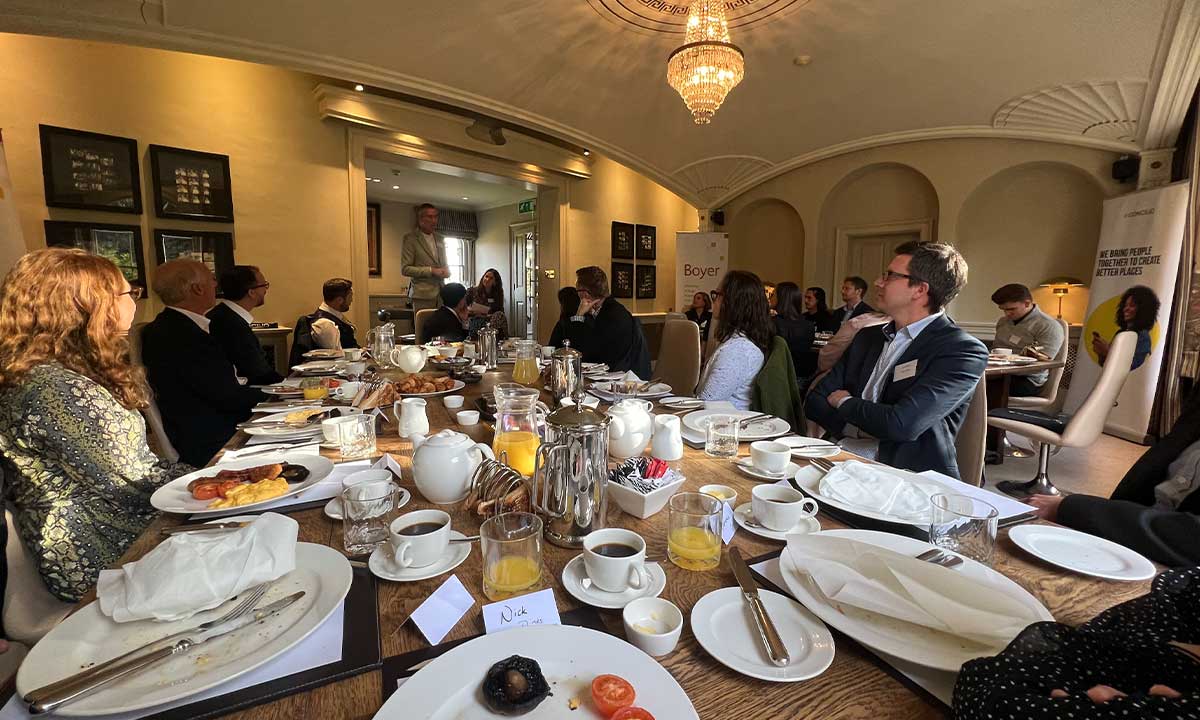 Breakfast briefing with Cllr David King
Leader of Colchester Council explains local priorities
On Wednesday 19th October, Concilio and Boyer hosted a breakfast at Milsoms in Dedham where we brought together representatives from Barrett, Bloor, Church Manor Estates, Countryside, Croudace, Denbury Homes, Hopkins Homes, Persimmon, Taylor Wimpey and Turnstone amongst others, for a morning of networking and interesting discussion, as well as a hearty breakfast. 
We were delighted to be joined by Cllr David King, Leader of Colchester Borough Council, to discuss a range of topics including the Liberal Democrat led traffic light administration's new Local Plan, Colchester's great potential and prospects, and advice on Government planning reform.  
When discussing the opportunities and challenges for Colchester, Cllr King highlighted the opportunities that Colchester's soon to be City status would create and highlighted the great prospects he saw when looking forward, in particular in terms of bringing in investment. 
Alongside this he pointed to the stability that the recently adopted Local Plan would bring and maturity the new administration could provide, as well as benefit of the strong institutions such as the University of Essex, and the part they could play in encouraging growth through opportunity and investment. 
Katie Brown (Senior Account Manager at Concilio) then asked about Cllr King's role as the Vice Chair of Tendring/Colchester Border Garden Community Joint Committee and the priorities for the new town. Cllr King responded that the priority was to get the garden community built, and that despite the broad political consensus, they are still very much at the beginning of the process. He emphasised that the garden community principles are aspirations that should guide good development and so long as it is done well then it will provide a better quality of life and a new centre for Northeast Essex for people to live. 
Moving on to the development of a new Town Centre masterplan, and the future of Colchester Town Centre, Cllr King noted the importance of this being a recognition of the past with regeneration focused on using the assets in the town to create a joined up, attractive place that makes the most of Colchester's past. 
Asked about the assurances Colchester can give to the development industry, in the wake of political issues seen in some other Essex authorities, Cllr King iterated his belief that the administration has displayed its good judgement and is an ambitious authority relative to its scale. He noted that like many authorities, Colchester faces problems, but is well aware of what they are and is already taking proactive steps, including organising a meeting with former leaders to build consensus on how the Council should move forward. 
Finally, on a more lighthearted note, Katie asked Cllr King whether he had any advice for (now former Prime Minister) Liz Truss, on planning reform. In response, Cllr King highlighted the need to simplify the process but noted that this would take significant political capital and argued that the Prime Minister needed to focus on the macroeconomic position of the country for the moment.